Annie Lennox – Miracle of Love
Objavljen: 25. novembar, 2013. | Autor: Smiljana Gavrančić
Kada krećemo u analizu jednog horoskopa, sasvim je prirodno da pođemo od samog znaka na Ascendentu, jer u njemu je upravo sadržana glavna poruka za natusa... Poznavajući prirodu samog znaka na Ascendentu, prirodu planete koja je u datom znaku u sedištu i/ili egzaltirana, kao i prirodu planete koja je u datom znaku u izgonu i padu – mi već dobijamo jednu početnu sliku natusa čiji horoskop analiziramo.
U ovom članku biće reči o ženi koja u svojoj karti ima konjunkciju Venere i Saturna u Škorpionu, a Ascendentalna je Devica, što nam već u startu puno govori o značaju upravo ove Venere u njenoj karti. Naime, Devica je znak gde je Merkur (um, intelekt) u sedištu i egzaltaran, dok je Venera (planeta zadužena za odnose, ljubav) u padu. Zadatak svake Ascendentalne Device jesu upravo odnosi, jer naspram Device je znak Riba gde je Venera ushićena (egzaltirana) i gde mesta rečima, analizi (sve ono što Devica prirodno radi) – nema! Takođe, Devica na Ascendentu treba da "radi" i na Jupiteru (optimizmu) i Neptunu (lična vera) jer su ove dve planete u ovom znaku u oslabljenom dostojanstvu (izgon).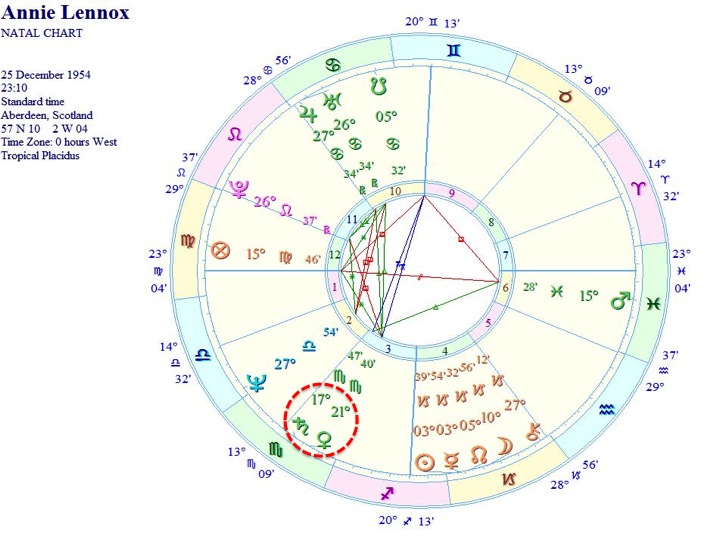 Annie Lennox, žena koja peva
"Miracle of Love"
je na svojoj koži više puta osetila konjunkciju Venere i Saturna u Škorpionu. Naime, sva tri supruga su joj bila u simbolici ove konjunkcije. Znamo da je ovo najčešće
slika karmičkih ljubavi, ljubavi gde se odrađuju neki dugovi, ljubavi sa starijim osobama, ljubavi koje su ograničene u vremenu, ali i ljubavi sa osoboma koja potiču iz različitih kulturnih sredina, imaju drugu boje kože i sl
. Po meni, ovo su i
ljubavi koje su odložene u vremenu, na koje se mora sačekati... , koje nam se dešavaju kasnije u životu, u nekim zrelijim godinama...
Annie se čak tri puta udavala, s' tim da je tek ovim nedavnim, trećim brakom, ispunila u potpunosti simobliku svoje Venere na zvezdi Unukalhai iz konsteacije Serpens koja se vezuje za lekare, iscelitelje, jer joj je treći suprug, pored toga što je iz druge kulturne sredine (iz Južne Afrike), još i lekar, čime je ispunila i potrebu fiksne zvezde kao "nosača" u ovoj priči. Konačno, Venera je u karti Annie i njen egzaltirani vladar 7. polja čiji je vrh u Ribama, te je svakako veoma važna u analizi ljubavnog života ove umetnice.
Ali, da krenemo od početka. Ako analiziramo njeno 7. polje, polje braka, onda nalazimo Ribe na vrhu 7, a Jupitera kao vladara vidimo retrogradnog, i u aplikacionoj konjunkciji sa Uranom, što često može da ukaže na nagle ulaske u brak ali i na razvode. Retrogradnost joj je donela više od jednog braka, a ni sama pozicija Jupitera u znaku svoje egzlatacije nije uspela da joj sačuva prvi brak. No, ovaj čovek joj je bio potreban, jer je jako uticao na njen život. Svog prvog supruga,
Radha Ramana
,
monaha Hare Krishne
, upoznaje 1984. godine na svom koncertu u Štutgartu. Samo tri sedmice nakon upoznavanja venčali su se i u braku ostali samo godinu dana. Ipak, ovaj čovek je uticao na to da Annie promeni način ishrane – prestala je da jede meso, pije kafu i alkohol. U to vreme, ona je na to gledala sa velikim entuzijazmom.
"Promenio mi je život, naučio me je kako da budem sretna. Pre nego što smo se sreli bila sam užasno zbunjena i nisam znala šta želim."
U njenoj karti Venera je i vladar 2 (ishrana) i kao što sam već rekla, prešla je preko Saturna (odricanje) te ovo jeste slika neke vrste posta, odricanja od hrane, odricanje od svega što je nekako "prljavo" (Škorpion) za organizam. Naravno da sam retrogradni Jupiter u Raku može da donese partnera koji je neki vid njenog duhovnog Učitelja (Jupiter), koji se bavi ishranom (Rak). Uran je doprineo da se brak brzo sklopi, ali i da se prekine. Dispozitor njenog Jupitera je Mesec u Jarcu gde je Jupiter u padu, pa i te kako možemo da posumnjamo da joj brak nekako "pada" u vremenu. Naravno da je trigon sa Saturnom doprineo da do braka dođe, jer Saturn voli formu, što brak jeste...
Drugi suprug Annie Lennox bio je čuveni
izraelski reditelj i producent, Uri Frutchmann
, sa kojim je provela zajedno 12 godina (tačniije od 1988. do 2000.). Sa njim ima i dve kćerke, Tali i Lolu, kao i sina Daniela. I ovog supruga možemo posmatrati kroz Jupitera u Raku (Izrael), ali i kroz kvadrat sa Neptunom – filmski producent. Ovaj aspekt joj sasvim sigurno početno donosi ushićenje, potrebu da idelazuje odnos, nakon čega obično sledi i razočaranost. Venera, kao esencijalni signifikator za odnose, brak, je postavljena već onako kako je postavljena – u Škorpionu i u konjnkciiji sa Saturnom (brak sa osobom iz druge kulturne sredine ograničen u vremenu, ako odnos nije čist, iskren, veza teško da opsataje, a ako jeste ona se tada dodatno učvršćuje)... Dispozitor Jupitera je Mesec u Jarcu, čime i ovde realno postoje šanse da i ovaj brak "pada" u vremenu. Nakon drugog razovda, Annie je izjavila da
se nikad više neće udavati
... A kako nas upravo ono od čega "bežimo" baš i "stiže", tako je bilo i u njenom slučaju...
Inače, Saturn je jako bitna planeta u karti Annie Lennox i to iz više razloga. Kao prvo, dispozitor je njenog vladara Ascendenta, Merkura iz Jarca, te tako predstavlja nju kroz vreme. Drugo, kako je sama Annie rođena na dan solarne eklipse (Pomračenje Sunca) na 2º Jarca 59' (gotovo 3º Jarca) onda je Saturn vladar i njene prenatalne eklipse koja je za osobu uvek neki vid nepoznanice, mraka, tame, jer se desila pre rođenja i definiše njeno stanje svesti kroz stepen poverenja ili straha. Konačno, Saturn joj je i vladar 5 (kreacija, ljubav...). Stoga, kako Saturn "boji" njenu Veneru iz Škorpiona, a ona kao Devica na Ascendentu i te kako treba da u životu "radi" na odnosima, onda je upravo njen glavni zadatak da se u vremenu što više oslobodi straha u odnosima, jer je sklona dubokom, možda bolje rečeno predubokom (Škorpion) vezivanju. Ovde je potrebno da prođe dosta vremena, da se ovaj Saturn "iskristalizuje", da postane skroz "čist" i iskren, jer samo tako Annie može ostvariti čarobnu ljubavnu priču, ako se u nekoj dubokoj ljubavnoj priči preda bez straha, tj. ako u nju uđe iskreno i bez sumnji... Tada joj dispozitor (Mars u Ribama) zaista vodi Veneru u znak njene egzaltacije, u znak Riba, u trigon (lakoća) sa Saturnom, i na zvezdu Ahernar (Jupiterovske prirode), iz konstelacije Eridanus i koja govori o jednom dugom putovanju kroz podzemnu reku, ukazuje na neki vid "čistilišta", ali na kraju i na svetlo na kraju tunela...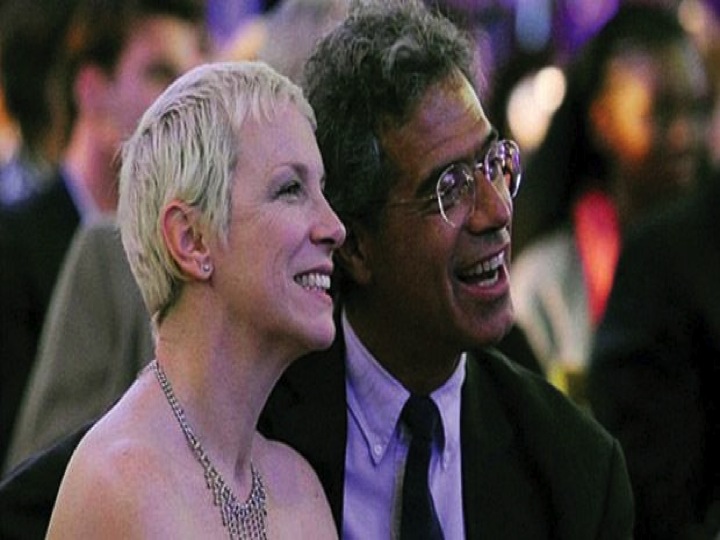 Svog trećeg, sadašnjeg supruga, upoznala je još 2009. Doktor Mitchell Besser je poreklom iz Južne Afrike (opet simbolika Venera-Saturn konjunkcija), ginekolog je (Škorion), i radi na projektu pomaganja onima koji su HIV pozitivni. U čitav taj projekat, poznatiji kao "mothers2mothers" pomažući deci i samohranim majkama koji u sebi nose ovaj virus, uključila se i Annie Lennox, i ljubav se dogodila. Iako je rekla da se nakon drugog razvoda nikad više neće udavati, u godini kada je njen direktivni Ascendent nakon 58 godina (kreće se 1º za 1 godinu) došao upravo na 21º Škorpiona, na njenu natalnu Veneru, ona se udala po treći put! Takođe, baš tog 15. decembra 2012., na dan venčanja, njena sekundarna Venera (kreće se inače 1º za 1 godinu) bila na 17º Jarca, praveći egzaktan sekstil (lakoća) sa natalnim Saturnom na 17º Škorpiona, dok je sekundarni Saturn već duže na 21º Škorpiona, na natalnoj Veneri.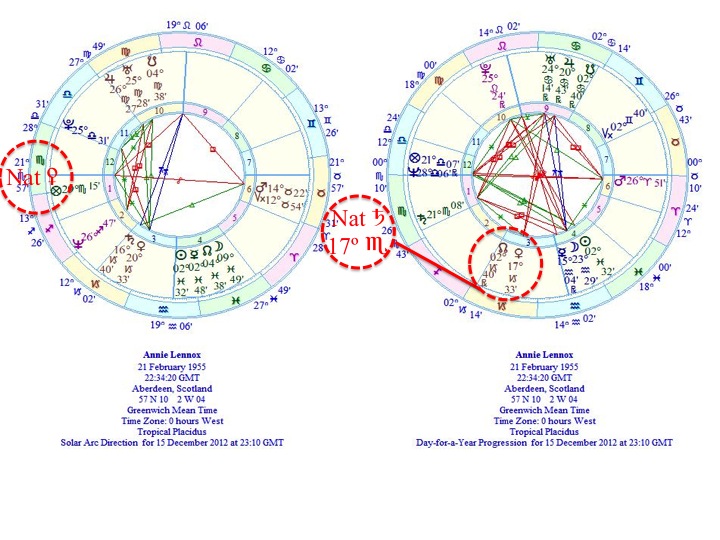 Ovde je posebno bitno to što je Annie konačno ispunila potrebu svoje Venere na zvezdi Unukalhai iz Serpensa – partner lekar, iscelitelj... Sada ta ista Venera, iako "zagrljena" od Saturna (neko druge boje kože), preko dispozicije ide u 6 (potreba da služimo drugima), u sam znak svoje egzaltacije, i na zvezdu
Ahernar,
pa je odnos sa ovim čovekom zaista može "očistiti", a ona ugledati
svetlo na kraju tunela
. Saturn sobom nosi i Hirona sa 27º Jarca te kroz ovaj odnos ona isceljuje kako sebe, tako i sve oko sebe. Konačno, Venera je kod Annie i vladar njene 9 (svrha, budući život) te je ova žena zaista na pravom putu...
Dakle, mi sve partnere i sve brakove možemo primarno gledati kroz seriju 7, budući da je tu primarno sav naš potencijal za brakove, ali na kraju i kroz Veneru kao prirodnog prestavnika serije 7. U karti Annie Lennox Venera je bitna, jer je ona Devica na Ascendentu i odnosi su upravo ono na čemu ona treba da "radi" tokom života. Venera joj jeste u konjunkciji sa Saturnom, i to na prvi pogled može da deluje "mučno", ali ta ista Venera je na jednoj zvezdi koja ukazuje na lekare, pa tek kada je u njen život ušla osoba koja se uklapa u opis lekara, Saturn joj je doneo samo ljubav na koju je dugo čekala. Ali, da bi došla do ovog odnosa, naravno da su joj bili potrebni i svi oni partneri od pre, jer svaki od njih ju je sve više i više približavao njenoj pravoj prirodi.
Elem, brak se dogodio 15. decmebra 2012, neposredno nakon solarne eklipse od 13. novembra iste godine koja je tačno "pala" na njenu natalnu Veneru na 21º Škoripona. Budući da je eklipsa bila solarna (novi lični početak), ona je otvorila neka nova vrata na polju odnosa ovoj izuzetnoj ženi... Ova eklipsa je preko Marsa (dispozitora Venere sa 21º Škorpiona) otišla u znak Riba (egzatlacija Venere) i u trigon sa Saturnom, te je sve ovo slika mogućeg dolaska do braka...
Samo ljubav koja je "očišćenja" od strahova, sumnji (Saturn) može da odoli vremenu i kroz vreme postane sve čvršća i stabilnija. Naravno, potrebno je vreme (Saturn) da bi se strah pretvorio u ljubav, i to onu čistu, božansku, bezuslovnu, kojoj je najlepše u znaku Riba...
U tradicionalnoj astrologiji Saturn se raduje u 12, dok je to danas (u modernoj, zapadnoj astrlogiji) kuća radovanja Venere, pa vam na kraju postavljam pitanje – Da li tamo gde ima ljubavi – mesta strahu ima? Živeti magiju i strpljenje, to je ono što od nas traži 12, znak Riba i Venera koja je tu egzaltirana...